A View from the Sunborn Yacht Hotel


Spain from a veranda on the Sunborn Super Yacht


If you want some glitz and glamour the Sunborn Super Yacht is just the place for you.

Even if you are not interested in the casino the top deck lido is a good place to relax and sip a cocktail.

Breakfast is first class with ample choice, catering for all types of diets.

Moored at the Ocean Village Marina the Sunborn is a great place to start exploring Gibraltar.

If you can make the Sunday 10.15 trip with Dolphin Adventure, outside the Sunborn, they will take you to visit the Gorham Cave Complex and spot some dolphins on the way.

Lunch is just around the corner with very good Chinese and Indian restaurants, not to mention a few familiar names.

Cocktail hour is within sight of the Sunborn at a number of bars; you need to go early as they are so popular.

Casemates Square is a short walk away and the road to Main Street takes you to a vast array of shops, ultimately leading to the Alameda Botanic Gardens.

Buses to places of interest are frequent at the terminal just before Casemates. There is a very nice lido at Camp Bay and a beach at Catalan Bay. Make sure you get the tourist office map.


Photographs © World InfoZone Ltd 2017 and 2019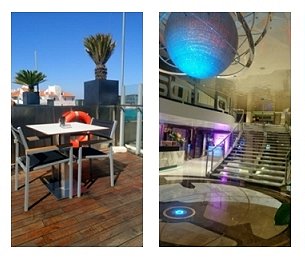 Places of interest in Gibraltar include Catalan Bay, Sandy Bay, Harding's Battery, the Lighthouse and the Ibrahim-al-Ibrahim Mosque, the Queen's Balcony,
St Michael's Cave
, the
Moorish Castle
, the
Trafalgar Cemetery
, the
Alameda Botanic Gardens
,
Commonwealth Gardens
, Queensway Quay Marina, Ocean Village Marina, Camp Bay Lido,
Gorham's Caves
and
Viewing Platform
. And,
Christmas Lights
,
Historic Post Boxes
and
the Sacarello Coffee House
.
Read the World InfoZone information on GIBRALTAR
Page Two