THE BARBARY RESTAURANT AT THE SUNBORN, GIBRALTAR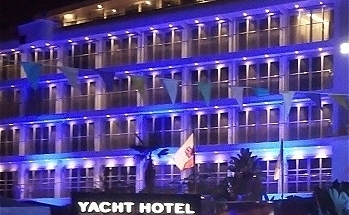 The Sunborn is a fully functioning sea vessel which was fitted out as a hotel in the bay overlooked by the Eliott Hotel. It has now been moored in the Ocean Village Marina for some years, and although with its engines intact, there are no plans to set sail.
At the beginning of 2019, the 7th floor restaurant continued to promote its new incarnation "The Barbary".
The continents of Europe and Africa can been seen from Gibraltar and the Barbary has taken this on board with a menu which fuses the cuisines of North Africa and the cuisines of the Mediterranean.

Local produce is used to produce a varied menu with dishes such as yoghurt marinated corn fed chicken with tabbouleh and sesame sauce, and vegetable Maghreb Tagine with cous cous, dried fruits and tahini.
There is an array of cocktails such as the Perfect Date: vodka, orange, lemon, orgeat and date syrup.
And, Of course, there is an interesting wine list, with various coffees to follow one of the Barbary's delicious desserts such as hazelnut pannacotta.

- A perfect evening after a perfect day exploring Gibraltar - and a great January break in the sun!
Places of interest in Gibraltar include Catalan Bay, Sandy Bay, Harding's Battery, the Lighthouse and the Ibrahim-al-Ibrahim Mosque, the Queen's Balcony,
St Michael's Cave
, the
Moorish Castle
, the
Trafalgar Cemetery
, the
Alameda Botanic Gardens
,
Commonwealth Gardens
, Queensway Quay Marina, Ocean Village Marina, Camp Bay Lido,
Gorham's Caves
and
Viewing Platform
. And,
Christmas Lights
and
Sacarello's
.
Read the World InfoZone information on GIBRALTAR
Page One