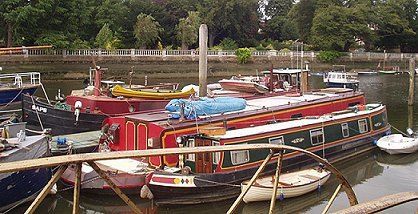 Large colourful banners - green, yellow and blue - waved in the breeze next to the Thames yesterday signalling the Dragon Boat Challenge, part of the Twickenham Festival.
It was a sunny day and a quiet morning walk, punctuated by calls of water birds, brought home the beauty of this spot, a rival to any European destination.
A road winding from the Parish Church of St Mary the Virgin (a church which dates back to mediaeval times) passes the entrance to Church Street, the historical centre of Twickenham, and leads to ancient lanes. Tucked away, behind the drabness of Twickenham's town centre, cottages and buildings of architectural note are framed by overhanging trees and bordered by tiny English gardens.
Walking on to the Barmy Arms public house, a flotilla of boats is moored in front of
Eel Pie Island
, known in the 1960s as a venue for the Rolling Stones and the Who.
Willow trees, a few exotic palms and horse chestnut trees grow along the river bank. Swans and Canada Geese, including unusual albino-looking geese, cluster around the small beach. Looking towards Strawberry Hill and Popes Villa the idyllic view of the Thames is dotted with oarsmen who have traditionally rowed on the Tideway.
It is the beauty of this view which may deny the people of Twickenham tranquillity in this spot for years to come. It is possible, unless local campaigners prevail, that the sound of bulldozers and mechanical diggers will drown out the calls of birds as development takes place on land bought by the Council in 1924 for the purpose of providing "public walks and pleasure grounds". This part of the Tamesis may have finally succumbed to the market place, despite a desire by many of the people of Twickenham to conserve the spot for future generations. (14 June 2009)
Saving Twickenham Riverside
Memories of Twickenham Riverside