THE SACARELLO COFFEE HOUSE and Restaurant in Irish Town, Gibraltar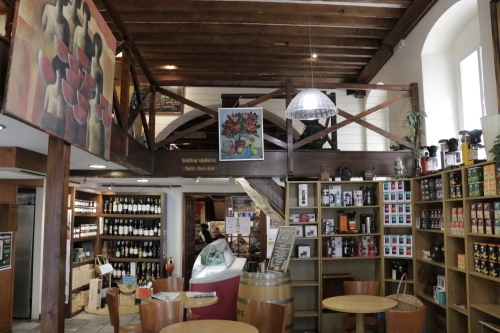 Irish Town became a thriving commercial centre in the nineteenth century, a time when Napoleon blockaded British exports and Gibraltar's port was the only European port available to British shipping.
The Sacarello building, at 57 Irish Town, was built in 1826 - the work of Giovanni Boschetti, an architect who introduced a mix of British and Italian architectural styles to Gibraltar.
Bartolomeo Sacarello (b 1825), a merchant specialising in coffee, founded the Sacarello business in 1888; Sacarello's coffee shop and restaurant echoes the family history.
In 1985 and 1994 the Sacarello brothers, Patrick and Richard, employed a local heritage conservation architect, John Langdon, to design the conversion of the warehouse retaining historical artefacts such as coffee grinders and original architectural features.
Today, Sacarello's is the place to visit to absorb the history of Irish Town - and there are also some very tempting cakes on offer!
Sacarello's is not only a place to eat. Patrick is a keen collector of paintings and a number of these can be enjoyed on a visit to the restaurant which is open early morning apart from Sunday.
Places of interest in Gibraltar include Catalan Bay, Sandy Bay, Harding's Battery, the Lighthouse and the Ibrahim-al-Ibrahim Mosque, the Queen's Balcony,
St Michael's Cave
, the
Moorish Castle
, the
Trafalgar Cemetery
, the
Alameda Botanic Gardens
,
Commonwealth Gardens
, Queensway Quay Marina, Ocean Village Marina, Camp Bay Lido,
Gorham's Caves
and
Viewing Platform
. Also,
Christmas Lights
and
Historic Post Boxes
.
Read the World InfoZone information on GIBRALTAR
August 2019

Photograph Berkley Driscoll, July 2019