Menu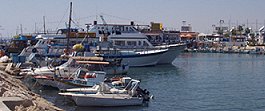 Partners are from all over the world including Australia, Azerbaijan, China, Italy, Israel, Japan, Netherlands, Philippines, Russia, Singapore, South Africa, Spain, Sri Lanka, Taiwan, Ukraine, United Kingdom, United States of America and Uzbekistan.
Yias sou from Cyprus
Email from Larnaca, Cyprus

I live in Larnaca city, my school is in Frenaros village.
My school does not have internet access, neither do the majority of my 28 students (only 5), so I will work with my students with group project answers. I thought for a start to prepare a "hello" presentation from my students.
Email from the teacher in Cyprus
I showed my students the fotos and the material you sent me and they were very excited. They found our e-communication very interesting and they are now preparing their presentation to send you. At the end of the week I will translate and send you their messages and fotos.
Emails from the pupils in Cyprus
Hello from the students of Frenaros School. Our school is quite large for Cyprus' standards. It has 260 pupils, 12 classes, from 1st to 6th grade, and 18 teachers.
In the Cypriot educational system very few schools have a gym but the majority of schools have a football and basketball field.
Email about Frenaros
Frenaros is a village in Ammochostos, Famagusta, in the Cyprus Republic. It's called Frenaros because of the many wells (in Greek "freatia") which the village had, many years ago.
The majority of the people in our village work in the tourist industry (hotels, restaurants etc) since Agia Napa, the island's most attractive place for tourists, is nearby.
The most important places in Frenaros are the Town Hall, the Monument of the Village's Heroes, the Monument of Photis Pittas (a teacher who fought against the British in Cyprus' Liberation War, 1955-1959) and the old and new church of Archangelos Michael.
Read the WIZ information on CYPRUS and Cyprus College of Art
Find out what is happening in the World. Read the latest news in NEWSLINK
Return to the Menu