Christmas in the UK starts in the shopping centres in early November. Before long, lights and decorations appear in the shops, in the streets, and eventually, inside and outside people's houses. Christmas trees also materialise, along with men in Father Christmas (Santa Claus) suits.
Christmas trees became part of Christmas in the UK from Queen Victoria's reign. Queen Victoria was married to the German prince, Albert (Saxe-Coburg & Gotha) who popularised the German tradition.
Holly and mistletoe are traditionally used in Christmas decorations; both were originally plants which played a part in the Celtic Druid religion, before Christianity was introduced. Holly was used to ward off evil spirits and mistletoe was a sacred plant to the Druids. Today the spiky holly leaves symbolize the crown of thorns used in Christ's Crucifiction and the berries symbolize his blood. Kissing under the mistletoe is a Christmas tradition.
Before Christmas, people send one another Christmas cards, and in schools teachers make red post boxes decorated with cotton wool "snow". At the end of term children receive their cards and presents from their friends, and parents are invited to watch Nativity plays about the birth of Jesus and sing Christmas carols, such as "While Shepherds Watch Their Flocks by Night" and "Oh Little Town of Bethlehem". Other popular songs at this time include "Rudolph, the Red-Nosed Reindeer", "The Twelve Days of Christmas", "Silent Night", "So This Is Christmas" and "White Christmas".
Christmas films are shown on television including versions of Charles Dickens' book "A Christmas Carol". Ebenezer Scrooge, the main character in the story, hates Christmas until he is visited by the three ghosts of Christmas Past, Christmas Present and Christmas Future. The animated film "The Snowman" is also very popular and features the song "Walking in the Air".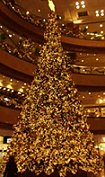 A number of people attend church services and Midnight Mass on Christmas Eve. Christmas in the UK is celebrated on 25 December although there is debate among scholars as to whether this is really the correct date of the birth of Jesus. The Eastern Christian Church celebrates Christmas Day on 6 January, which in the UK is the day following "Twelfth Night".
On Christmas Day, people exchange gifts and children open presents which have been left by Father Christmas in their "sacks"; sometimes these are pillowcases which hold more than Christmas stockings! Children leave carrots in their sacks for the reindeer which pull Father Christmas' sleigh and quite often Father Christmas is left a Christmas mince pie.
On Christmas Day there are plenty of nuts, fruit and chocolates around and lots of different drinks. Christmas lunch is traditionally roast turkey with sage and onion stuffing, chestnut stuffing, sausages, roast potatoes, brussel sprouts and other vegetables with gravy. This is followed by Christmas Pudding which used to be called "plum pudding" and is now full of raisins, currants, sultanas, nuts and cherries. It is served with a variety of toppings such as custard, cream and brandy butter. Before the Christmas Pudding is carried to the table it is often covered with brandy and set alight. Christmas crackers (or "bon bons") are also on the table. These are decorated tubes containing paper hats, jokes and small presents. A cracker is pulled by two people, and makes a bang; the person with the longer part of the cracker wins the contents.
Later in the day, people continue to eat a variety of foods including Christmas cake (a fruit cake with marzipan and icing sugar) and Yule Log (a chocolate roll covered in chocolate icing sugar and decorated with a piece of holly). Those who have open fires burn logs and sit around the fire. The tradition of the Yule Log goes back centuries when burning a Yule Log was supposed to ward off the devil.
Some people go for a walk, others have parties and some visit pantomimes, a great British theatrical tradition. Pantomimes are loved by old and young. The story is often a children's tale like "Aladdin", "Cinderella" and "Jack and the Beanstalk". There is always a happy ending but along the way we meet a villain and usually two "dames" who are men dressed as women. Pantomimes have lots of audience participation and comedy as well as beautiful scenery and dancing.
Outside the weather is usually cold; recently there has not been snow at Christmas but people always hope that Christmas will be white.
Read WIZ information on the UK. See how the UK links to WIZ countries
Return to the Global Communication Menu