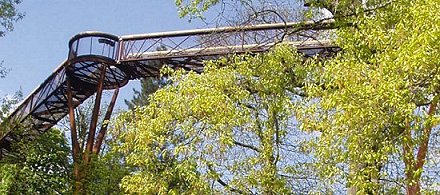 In 2003 the Royal Botanic Gardens in Kew,
Richmond
, was listed as a UNESCO World Heritage site. Five years later the Treetop Walkway opened.
The 200-metre Walkway is in a fairly central position within the gardens and is easily found by following the signposts. Overlooking the 300 acres of Kew, visitors walk through the canopy, which includes limes, horse chestnuts, sweet chestnuts and oaks, some up to 200 years old.
The foundations for the Treetop Walkway consist of 57 concrete piles 18 metres deep, all positioned carefully to avoid damaging tree roots.
The structure is made of weathering steel which rusts over time. Sweet chestnut wood has been used for the rails.
Design draws on the Fibonacci sequence, where each new number is the sum of the two before (for example, 2, 3, 5, 8 and 13), and which determines a number of plant structures. The sequence is used for the spacing of connection points for the diagonals of the walkway trusses. The 12 metre long trusses are connected to circular nodes which are supported by pylons.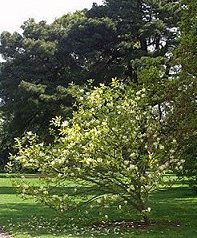 Descending 18 metres from the canopy it is possible to find out about root life in the Rhizotron below the Walkway. Rhiza is Greek for root and the Rhizotron shows the relationship between tree roots and micro-organisms in the soil.
About Kew
:
The history of Kew Gardens dates back 250 years starting in the mid eighteenth century. It began as a nine acre garden around Kew Palace. Today, the Royal Botanic Gardens in Kew is an internationally respected scientific organisation, well known for expertise in plant diversity and conservation. Kew works in many countries around the world including
Cameroon
,
Lebanon
and
Montserrat
.
The Royal Botanic Gardens in Kew is a United Kingdom World Heritage site
Page Two