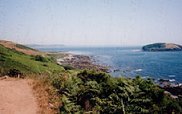 We set off from
London
later than planned on Saturday afternoon, we were travelling by car to Cornwall and decided to take the more scenic A-roads rather than be confined to straight grey motorways. It was a spectacularly sunny afternoon and once in Devon we took a detour off the A303, past the farm where Montgomery's cheddar - one of England's finest cheeses - is made, to a small Pick Your Own farm. There we picked strawberries and raspberries and bought a pot of gorgeous, thick yellow cream. We found a field nearby and feasted on a picnic of generous home made BLT sandwiches, home grown tomatoes, huge green olives, some big, bright orange, pink-blushed apricots and our strawberries and cream. It was a perfect picnic and in the scorching sun, surrounded by fresh country air and plenty of green, we were glad that we had chosen this weekend to escape London.
We arrived in Plymouth in Devon at around 6pm and located our hotel which was right by the sea. We walked up towards The Hoe from where we looked out over part of the town and the Channel. We took the cliff path down to the lively Barbican area where we had fish and chips. Then we took the cliff path back (we needed the exercise) and found a lovely pub, right on the edge of the water. Here we appropriately drank Plymouth Gin and Tonics and watched the full moon come up over the sea, a beautiful lilac and pink moon-rise, completed by a fireworks display in the distance.
On Sunday we continued on towards Corwall crossing the Taymar Bridge, a massive suspension bridge built by Brunel that stretches across the River Taymar, and headed towards the picturesque town of Looe. In Looe we went to Tom Sawyer's for their Sunday carvery. The food was good and the view over the sea from the cliff-top position was beautiful. On our waitress' recommendation we found our way to a secluded little beach nearby called Port Nadler. We had a fair hike through a field or two and some very steep steps to negotiate. We arrived (almost) unscathed, but the walk was worth it. The beach was beautiful, small and pebbly, surrounded by green cliffs and not very busy at all. We swam (well, I paddled) in the absolutely freezing sea, which was refreshing in the heat.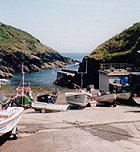 We drove towards Polperro and then on to Fowey (pronounced Foy). The coast along the way was spectacular, as was the surrounding countryside. The almost empty, winding, undulating country roads made a great change to London gridlock. The hedgerows were in full bloom, creamy cowslip, vivid pink foxgloves, little yellow flowers and the last petals of pale pink blackberry blossom. There was an abundance of butterflies, birds, cows and sheep and we even saw two rabbits. We had to take a ferry across a few metres of water to Fowey and then park the car so that we could have a look around the tiny town. Fowey is a picturesque little town; along its sloping streets shops sell gifts, clothes, fudge and more. There are several pubs and restaurants and a good delicatessen. There are plenty of places to get Cornish ice cream and tea rooms serving traditional cream teas: home made scones that are eaten with Cornish clotted cream and strawberry jam and a pot of tea.
Our hotel was a handsome manor house just outside Twyardreath. There was pool with sauna and jacuzzi and a lawn for playing croquet and the staff were super friendly.
We returned to Fowey for dinner. As we were walking into town we heard two very loud fire-crackers exploding and wondered what was going on. Four cars raced past us and pulled into the side of the road, men jumped out and began running towards the centre of town at full pelt. Some streets on we saw the men, clothes changed, jumping into a little boat that took them to their lifeboat and realised that they were RNLI lifeboat men. Everyone watched, as the lifeboat chugged out of the quay, wondering who was in trouble.
We ate dinner in a very popular restaurant called Sam's. We had scallops and grilled sardines to start and the seafood feast to share as a main course, there were mussels, prawns, more sardines and squid plus lots of bread, salad and creamy coleslaw along side. I could hardly finish the delicious chocolate cake with gooey chocolate sauce and ice cream. The wine was good, the service was friendly and attentive, we couldn't have asked for more.
On Monday, after a breakfast of local kippers, we went to Truro to have a look around the city. After spending a nice morning there we went towards Trewithen and from there made our way along a coastal road to Nare Head, on to Veryan, where the cream teas looked particularly good, and then to Veryan Bay. The views were consistently spectacular and we found our way to an especially beautiful beach called Pendower Beach. The beach belongs to the National Trust, it is sandy and the water was clean and clear and there were only a few other people there. Later we had lunch of Cornish Pasties and lemonade near Caerhays Castle.
We continued along to Portloe, another idyllic little village, and from there to Mevagissey. Later, we travelled to Falmouth and after a few drinks in the lively part of town we had the best fish and chips I have ever had from the Harbour Lights chippie.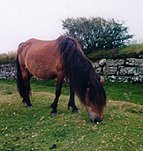 On Tuesday we had smoked haddock and poached eggs for breakfast and made our way to the north coast and the harbour town of Padstow. After a walk around the town we bought some rock and fudge to take home and some pasties and lemonade for lunch and went to the beach. It was low tide and there were miles of golden sand and rock pools with crabs and fish, we wished for a bucket and spade! After an afternoon on the beach we splashed out on big ice creams - clotted cream, fudge and hokey pokey flavour (caramel ice cream with honeycomb pieces).
We were sad to be leaving Cornwall but left early to take the scenic route across Bodmin Moor and Dartmoor. We saw plenty of sheep and cows and lots of adorable wild ponies before setting off for home. (2003)
Visit the WIZ information on the UK. Read news from the UK in Newslink
Page Two