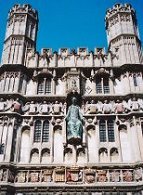 Canterbury is a cathedral town in Kent within easy distance of the coastal towns of Whitstable and Herne Bay, next to the River Stour.
Part of the city is a UNESCO World Heritage Site - this includes the ancient city walls, the ruins of St Augustine's Abbey, St Martin's Church and the Cathedral.
The
Romans
invaded
Britain
in the first century. The Roman settlement of Duovernum Cantiacorum was built where Canterbury stands today. However by the fifth century Rome was experiencing problems at home and could no longer provide an army to garrison Britain. The country was left to defend itself from the invading Angles and Jutes from
Denmark
and the Saxons from
Germany
.
At the end of the sixth century Pope Gregory saw Angle slaves from Britain and thought they looked like angels. Soon after Augustine (Saint Augustine) was sent to Britain becoming the first Archbishop of Canterbury.
Among Archbishops of Canterbury who became saints were Saint Dunstan, Saint Anselm and Saint Thomas Becket. It was in 1170 that Archbishop Thomas Becket suffered martyrdom when he was murdered in the Cathedral.
Pilgrims visited Canterbury from the sixth century. From the end of the twelfth century, pilgrims also visited the place of St Thomas' shrine. As many of today's literature students will know Geoffrey Chaucer immortalised a group of pilgrims travelling from London to Canterbury in The Canterbury Tales.
Contemporary visitors to Canterbury not only make the journey to the religious buildings but to see the remains of the city wall, the medieval fortified gate-houses (West Gate and North Gate) and the historical architecture which is commonplace in the pedestrianized town.
Medieval buildings include Eastbridge Hospital of St.Thomas the Martyr in Canterbury High Street and the Canterbury Heritage Museum which used to be the Poor Priests' Hospital.
Huguenot
and Walloon weavers, from
France
and the
Low Countries
respectively, fled to Canterbury during the sixteenth and seventeenth centuries to escape religious persecution. These people have left their legacy in the Canterbury "weavers' houses" which are still in use today as shops, restaurants and The Weavers public house.
The Canterbury Heritage Museum in Stour Street offers a glimpse of Canterbury's two thousand year history. There is also an exhibition of original illustrations of the character of Rupert the Bear that was created by the local artist, Mary Tourtel.
Visitors will see that the famous Elizabethan playwright Christopher Marlowe, an old pupil of The King's School, is commemorated by the Marlowe Theatre.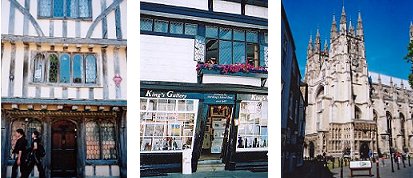 Read the WIZ information on the United Kingdom
UK news is in Newslink