La Sagrada Familia, Antoni Gaudi's Extravaganza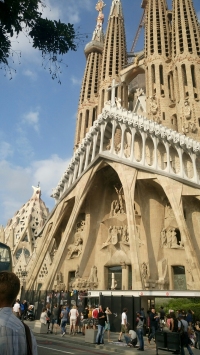 Building La Sagrada Familia in Barcelona started in 1882; it is still under construction but the building permit has only just been received - March 2019!
Born in 1852, Gaudi who died in 1926, must have been aware that he would never see his plans for La Sagrada Familia come to full fruition.
Gaudi became an architect at a young age, his home in Barcelona, the capital of the Catalonia region in northeastern Spain.
As well as the Sagrada Familia, examples of Gaudi's work can be seen throughout Barcelona, including Casa Vicens, Gaudi's first residential building - and one of the very first Art Nouveau buildings to be built.
In 1984 a number of Gaudi's works were inscribed on the UNESCO World Heritage List:
Parque Güell, Palacio Güell, Casa Mila, Casa Vicens, work on the Nativity façade and Crypt of La Sagrada Familia, Casa Batlló and the Crypt in Colonia Güell.
Photographs World InfoZone Ltd October 2018

A GREAT AUTUMN BREAK

Read the WIZ information on Spain
Page Two