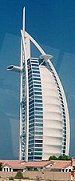 The
United Arab Emirates
, in the Middle East, is a federation of the seven Persian Gulf States of Abu Dhabi, Ajman, Dubai, Fujairah, Ras al-Khaimah, Sharjah and Umm-al-Qaiwain. The UAE is governed by the Supreme Council of Sheikhs.
The capital of the UAE, Abu Dhabi, is one of the world's most modern cities. The State of Abu Dhabi produces most of the oil from the UAE and is the third largest oil producer in the Gulf. (1999)
Oil revenues supply much of the UAE's budget although efforts have been made to reduce the dependence on oil by developing the manufacturing and service sectors.
Since the country has benefited from oil revenues modern towns have been designed by international architects and the government has provided low-cost homes. There are many dramatic structures among the hotels, offices and public buildings constructed in recent years.
The UAE consists of deserts, oases, mountains and a long coastline including many islands. Little of the land in the UAE could be used for cultivation. Money from oil has enabled research into new methods of agriculture and investment in irrigation has produced successful developments. Ras al-Khaimah, in particular, has an economy mainly based on agriculture (vegetables and citrus fruit).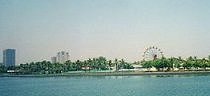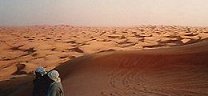 The population is just under two and a half million. Less than fifty percent of the people are Arabs. There are over one and a half million foreign workers including Indians, Iranians, Pakistanis and Westerners, all drawn by the oil industry, construction and commercial development.
The United Arab Emirates is Islamic. The majority of the people are Sunni Muslims with between fifteen and twenty percent Shi'ite Muslims.
National dress is worn by most citizens of the UAE: women wear the full length black abba and many wear the burqa; men wear the long white robe or dishdasha and the white or red chequered head-dress.
News from the Middle East can be found on World InfoZone's Newslink



We would like to thank Mandeep Ranger for the photographs
Visit the WIZ information on the UAE. Read news from the UAE in Newslink