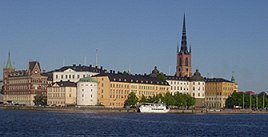 DIPLOMA AWARDED TO WORLD INFOZONE FOR EXCELLENCE IN THE USE OF INFORMATION TECHNOLOGY IN THE EDUCATION CATEGORY
THE STOCKHOLM CHALLENGE 2008
World InfoZone was invited to Stockholm in May 2008 to take part in the Stockholm Challenge as a Finalist. Sixty-seven groups from all over the world had the opportunity to exhibit their projects in the Forum at Royal Institute of Technology in Kista - Kista is known as Sweden's Science City.
Exhibiters stayed in Kista or in the city. I initially took the opportunity to sample the luxury of the Grand Hotel, near Stockholm Palace, then moved on to The Rival Hotel, Mariatorget, on the island of Sodermalm. The area is home to many artists, designers and musicians. The Rival, with Art Deco features, is owned by Abba's Benny Andersson.
Travelling to Kista by Tunnelbana, the underground system, is a cultural experience. Many artists have contributed to the individually decorated stations which display a variety of sculptures, mosaics and paintings.
On the last night the Challenge finalists were welcomed by the City of Stockholm to a dinner at the City Hall on the island of Kungsholmen.
Champagne in the Gold Hall, where the walls are covered with gold foil, was followed by dinner in the Blue Hall, the venue of the banquet for the Nobel Prize winners.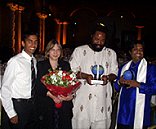 All Finalists received diplomas. "The 2008 Stockholm Challenge programme has been targeting ICT for Development projects globally. Great efforts have been put into the search for excellent examples of information and communication technologies, that show convincing benefits to people and communities and that help to build a global knowledge society. World InfoZone is such a project and therefore it deserves its place among this year's Finalists." Ulla Skiden, Project Manager.
Photograph: Rikin Gandhi, India (Digital Green: Participatory Video for Agricultural Extension), Teresa Read, UK (World InfoZone), Mervin Jarman, Jamaica (Container Project) and Niranjan Meegammana, Sri Lanka (Shilpa Sayura Project).
STOCKHOLM CHALLENGE 2004 and STOCKHOLM CHALLENGE 2006
World InfoZone was also a Finalist in the 2010 Stockholm Challenge, originally The Global Bangemann Challenge in Information Technology