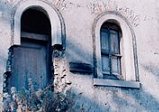 Sicily, the largest of the Mediterranean islands, lies between southern
Italy
and Africa. The island can be seen as a stepping stone between Europe and
Africa
.
A beautiful mountainous island, Sicily has been occupied by a series of traders, migrants and invaders including
Phoenicians
,
Greeks
,
Cathaginians
,
Romans
, Byzantines, Arabs, Normans, Angevins and
Spaniards
.
In 1861 Sicily became part of Italy when Garibaldi united the Kingdom of Italy and the island. Eighty-five years later Sicily achieved relative independence - although Sicily is part of Italy it is responsible for much of its own local affairs. Provinces are Agrigento, Caltanissetta, Catania, Enna, Messina, Palermo, Ragusa, Siracusa and Trapani.
Throughout history islands have been invaded by foreign powers. However, Sicily's rugged terrain has provided its people with a degree of protection as many of its towns and villages are high in the mountains.
Over the centuries Sicilians have valued a close family life. They have looked to themselves in the face of foreign occupation and imposed government. Partly in response to invasion and colonisation a purely Sicilian hierarchy emerged. Known as the Sicilian Mafia, members of the organization live by a code that can roughly be translated as "respect", "dignity" and "silence".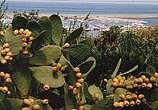 From early times Sicily has been coveted for its fertile land and today Sicily still has a largely agricultural based economy. Its main products are wheat (hard wheat from Enna for bread and pasta), barley, corn, peppers, tomatoes, aubergines, courgettes, potatoes, grapes, figs, pears, peaches, La Ficurinnia or the fig of India (from the West Indies) and citrus fruits and almonds (introduced by the Arabs).
A sweet liquid called manna is produced in Castelbuono and Pollina. This is collected from a species of Ash tree. It solidifies and is used in cakes and sweets.
Dairy produce includes a number of cheeses such as Ricotta, Pecorino Siciliano and Caciocavallo Ragusano.
The Sicilian fishing industry provides tuna, swordfish, sea bream, sardines, octopus, squid, prawns and mussels.
Other industries are wine (for example, Donna Fugata, Regaleali, Malvasia and sweet Marsala), balsamic vinegar, olive oil, honey, bottled water from Geraci, salt and other food processing.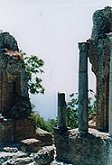 Sulphur mines in Caltanissetta have traditionally played a part in the Sicilian economy. Today chemicals and refined petroleum are modern Sicilian industries.
The growth of transport companies and the modernisation of Sicily's road system have been essential to Sicily's industrial development. Chief Sicilian ports are Catania, Messina and Palermo.
Tourism is an important earner of foreign currency. There are many castles and churches in Sicily to attract the tourist and important towns such as Taormina and Cefalu thrive on the tourist industry.
Tours are available to visit Sicily's active volcanoes: Mount Etna, Europe's tallest volcano, and Stromboli, one of the Aeolian Islands. Other places of interest are Madonie National Park, the Baroque towns of south-eastern Sicily, the Cathedral of Monreale, the Dorian Temple and Theatre at Sugesta, the ancient Greek Theatre of Taormina, the ancient town of Syracuse and the archaeological area of Agrigento.
Another source of revenue for the Sicilian economy has been money sent home from migrants. Like many Europeans, in the nineteenth century and early twentieth century, a number of Sicilians migrated to countries such as the
USA
in search of work. Although far from home strong links bound Sicilian migrants to their families and communities in Sicily.
In fact, today, some Sicilian Americans are returning to their roots and small complexes of retirement houses are being constructed for American Sicilians. It is hardly surprising that Sicily should exert its "pull" on its own people as it has done to others in the past. (2002)
Information about Italy