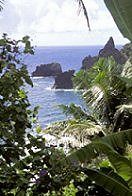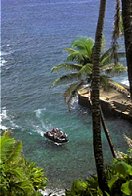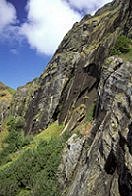 A bay in Pitcairn, Bounty Bay and cliffs near Christian's Cave - Dr A Kepler
Pitcairn, Henderson, Ducie, and Oeno Islands, known as the Pitcairn Islands, are an Overseas Territory of the UK in Oceania.
Pitcairn is famous as the hiding place of the HMS Bounty mutineers led by Fletcher Christian. The sailors arrived in Pitcairn in 1790. The British navy came across the settlement in 1814 and, later, the island became a British colony.
The opening of the
Panama
Canal in 1914 put Pitcairn on the route to
New Zealand
.
In 2007 it was estimated that Pitcairn had forty-eight inhabitants. Pitcairn Islanders live on subsistence farming and fishing. Handicrafts are made and postage stamps are sold to collectors.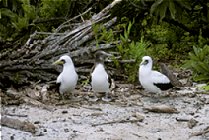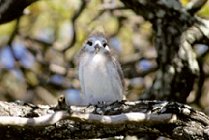 In 1989 Henderson Island was inscribed on the UNESCO World Heritage List. The island is noted for endemic plants and four species of birds: Henderson fruit dove, Henderson lorikeet, Henderson rail and Henderson warbler.
We would like to thank Dr C Kepler and Dr A Kepler for the photographs of a family of Masked Boobies on Henderson Island and the White Tern chick on Ducie Atoll.
Read the news from Oceania in the WIZ Newslink