The
Hashemite Kingdom of Jordan
is in the Middle East, bordered by Israel, the West Bank, Syria, Iraq, Saudi Arabia and the Gulf of Aqaba.

Jordan
is probably most well known for the city of Petra, a World Heritage site, carved into rock two thousand years ago. Petra, called the rose red city, remained unknown to Europeans until the nineteenth century.
Jordan
is the location of the ancient kingdoms of Ammon, Edom and Moab, mentioned in the Old Testament of the Bible. There are a number of Biblical sites in Jordan and it is thought that Moses is buried on Mount Nebo.
Jordan
became part of the Roman Empire and then a region of the Byzantine Empire. During Roman rule four of Jordan's cities - Gerasa (Jerash), Pella, Philadelphia (Amman) and Umm Qais - belonged to a commerical region known as the "Decapolis" which consisted of ten cities. Today, tourists visit the amphitheatre in Amman, the Temple of Artemis and the hippodrome in Jerash.



Madaba is the home to one of the world's largest collection of mosaics. These date from the Byzantine era and the Islamic Umayyad rule. Examples of architecture and art can be seen in the desert castles built by the European Crusaders and the Umayyad Caliphs.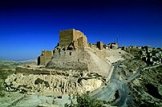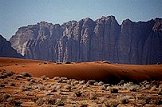 Jordan is famous for its scenery. The Wadi Rum has some of the most spectacular desert scenery in the world. Other well known Jordanian landscapes include the coast off the Gulf of Aqaba and the Dead Sea.
We would like to thank the Jordan Tourism Board in London for the photographs
News from the Middle East can be found in World InfoZone's Newslink