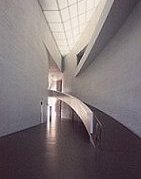 As soon as I arrived at Helsinki airport I was met by Scandinavian design, the pine flooring reminiscent of IKEA. The type of design that has become so popular in the UK is to be found everywhere in Finland, this makes things look very modern and new. From the airport we took the bus to our apartment and I was impressed that Finnish bus timetables are reliable and that the busses are punctual. Our apartment was, in true Scandinavian style, light and bright, decorated with pretty pale colours and simply furnished. Even though we were just twenty minutes from Helsinki centre, we were surrounded by woodland, lined with tall, silver trunked birch trees. The air was noticeably cleaner and sweeter than London's, perhaps a result of an efficient public transport system.
We took the metro (again, clean and super efficient) to the city centre. It was a warm and sunny evening; cafe culture was rife along Etelasplanadi, one of Helsinki's main streets. Lots of people sat outside at tables or in the tree lined avenues of Esplanade Park.
In the summer in Finland days are very long; during June and July there are only a few hours of darkness. North of the Arctic Circle the summer months are characterized by 'polar days', when the sun does not set at all, this is also known as the midnight sun. During the summers people make the most of the light and good weather and so they are out as much as possible. However, in the winter daylight hours in Helsinki fall to as few as six hours a day. North of the Arctic Circle, there is a part of winter that is known as 'polar night', this is when the sun does not rise above the horizon at all. People are really keen to make the most of the summer and the cafes and parks are full of people enjoying the warm weather.
For dinner we went to the fabulously stylish 20-something hangout, Ravintola Teatteri. The interior design was stunning and the international cuisine was delicious. As well as a restaurant, Teatteri has a cafe and club. Although too tired for clubbing, I was struck by the seeming lack of pretensions; whilst some people were dressed to impress, others were happy in jeans and jumpers and no one batted an eye-lid.
Day 2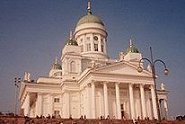 We visited the 150-year-old Helsinki Cathedral at the Senate Square. The inside of the Lutheran church was sparsely but beautifully decorated. We also went to see the splendidly ornate Uspenski Cathedral, which was completed in 1868 and is the largest Orthodox Church in Europe. The church was built to serve the Russians, when Finland was part of the Russian Empire.
We then walked to Finlandia Hall, taking in Toolo Bay and the surrounding parkland. Alvar Alto, a very famous Finnish architect, designer and town planner, designed Finlandia Hall. Alvar Aalto, who died in 1976, is famous for his innovative design and use of light and space. Alto's furniture and home accessories are also very famous.
The Finnish National Opera is on the shore of Toolo Bay. The Opera house is the centre for opera, ballet and modern dance art. We also walked past the Olympic Stadium that was built for the 1952 Olympics. The stadium has a tower that is 72-metres high and is open to tourists in the summer.
After being drawn back to Ravintola Teatteri for lunch, we visited Temppeliaukio Church, a circular church set in a huge rock with an impressive domed roof made of coiled copper. Beams stretched from the roof to the rock walls and between the beams glass allowed light to fill the church. We were impressed and resolved to see if there was a concert that we could attend in the church.
We went window-shopping in the afternoon. I am told that every Finnish girl can knit and in the clothes shops swathes of materials are sold alongside the clothes so that women can sew their own clothes.
As Finland is the home of the sauna we decided to visit a sauna in the afternoon. Most Finns have their own saunas at home so finding a typical public one was quite hard. The tourist information bureau gave us a list of several and we chose to visit the 'Sauna Bar'. Here, retro 70s leather arm chairs surround a huge fish tank, to the side of which is a shower area and sauna. When I told a friend back home that I had been to Helsinki, he immediately asked if I had been to the 'coolest bar on earth' - the Sauna Bar.
As we were there at the end of August, when the Helsinki festival is on, we went to catch the end of the Mayor's pop concert in the Senate Square outside the Lutheran Church. During the annual Helsinki festival there are lots of events such as theatre, dance, art, film and concerts going on, many of which are free.
Day 3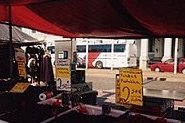 We started the day by walking to the Market Square This is where Helsinki's best known and most international market is held everyday. The Market Square is located next to the South Harbour at the end of Esplanade. The stalls sell traditional Finnish food, fruit, vegetables and crafts. Finland produces lots of different berries but most are too small to be sold outside Finland under EU law. In the market the stalls are laden with these little berries, there are ligonberries, raspberries, strawberries, cranberries and blueberries. The most unusual of the berries is the cloudberry, a yellow berry, native to the Finnish forests. Most Finnish desserts are based on berries, frozen cranberries with toffee sauce is an unusual and delicious example. Also native to the Finnish forests are mushrooms.
Next to the Market Square is the Old Market Hall, a beautiful covered market. This market sells mainly food items, lots of fresh seafood and delicacies. The market smells of dill, which is used to flavour many dishes. There were plenty of pies and fish pastries. Salmon is very popular in Finland, as are other fish such as herrings. Finland has over 60,000 lakes and over 2850 miles of seashore so it is not surprising that fish is really fresh and easily available. Smoked food is popular too: salmon, sausages, ham and reindeer are all smoked. Reindeer is used in sausages, stews and pies. The most famous of the homemade Finnish cheeses is Emmental, which is available in different strengths.
Fishermen sell fish directly from boats in the harbour and there are ice-cream stalls as well. Ice cream is very popular in Finland and there are some special flavours such as apple and cinnamon that are quite particular to Finland. Cinnamon is a very popular flavouring and one of the things not to be missed is korrapuusti a delicious cinnamon bun, a sweet bun called pulla is also very good. There are many different types of breads and pastries, Finland is home to rye bread and crispbreads.
We walked from the market to a nearby cafe for a lunch of rye bread sandwiches. We spent the afternoon walking around, sampling ice creams and drinking good coffee in the cafe of the contemporary art museum, Kiasma. The cafe at Kiasma looks on to the classically designed Parliament House with its fašade lined by fourteen enormous columns.
The Finns have extremely good taste in coffee, over 90% of the coffee that they drink is made from Arabiaca coffee beans, which are the best quality. Even coffee that can be bought on trains or at station stalls is freshly made proper coffee.
In the evening we went to a concert in the Temppeliaukio Church. We listened to some Beethoven, some Bartok and finally, as the sun set, candles were lit and a rainbow light projected as we heard some romantic Schuman.
Day 4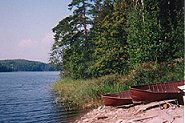 Today we visited Seurasaari, an island a few minutes boat ride from Helsinki harbour. We had lunch of salmon soup, chicken curry and salad. In Finland restaurants with a lunch menu must provide a free salad bar to encourage healthy eating.
The island is idyllic, with beautiful beaches and rocky shores. There is an open air museum which includes typical buildings from all over Finland.
From Seurasaari we went to Suomenlinna, another small island. Suomenlinna is a sea fortress that is interesting to walk around. The views are beautiful, lots forest and horizon.
In the afternoon we had another go at the sauna experience thing. This time we took a tram to a huge swimming pool complex. The complex was light and modern, it had a 50-metre swimming pool and separate diving pool. There was a water aerobics area and two kids' pools and a very cool 'massage pool'. In the massage pool, heated to about 29 degrees, you can get a massage from the jacuzzi jets along one wall or be pummelled under one of three seriously strong water fountains or you can be gently bubbled by sitting along the bubble wall. The saunas here were big, separate sex, pine affairs much as we had expected. The Finns looked at us (obviously weedy foreigners) either with concern or amusement as they poured water on to the coals raising the temperature to almost unbearable heights. There was also a slightly cooler sauna and a steam bath. For the Finns or the truly brave, there is an ice-cold plunge pool but I didn't even try to put more than my big toe in. There are loads of showers and the whole place is definitely the cleanest and one of the nicest pool complexes that I have ever visited.
We bought some really good food from the deli section at Stockmans department store back in town and took it back to our apartment for dinner. Spreading over eight floors, Stockmans in Helsinki is the largest store of its kind in Scandinavia, it is one of the leading shops in Finland. Although Stockmans is one of Finland's most prestigious shops, it is in a typically Finnish manner, understated and modest.
Day 5
Today we planned to hire bikes and ride out into the Finnish countryside and forests so we set off into town to get advice from the helpful tourist information bureau again.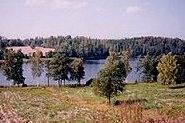 In Helsinki they have a scheme whereby anyone who wants to use a bike to ride around the city centre can hire one from one of the many bike stations and using a two Euro coin as a deposit. When you have finished with your Green Bike you return it to any free space and retrieve your deposit. But as we wanted to take our bikes outside the centre we hired them for the day from a bike hire shop.
We took the train to Espo and from there we cycled to the lake. We cycled along the lake shore until we found a place for lunch. We found a jetty that stuck out into the middle of the enormous blue lake and were about to bite into our well-deserved sandwiches when twenty or so screaming school children in swimming costumes came hurtling down the jetty. We grabbed our lunch and retreated up onto the hillside. The scenery was spectacular, really beautiful; mile after mile of forests and the weather was perfect, sunshine and blue skies. It was hard work getting there though and there were many more hills than we had thought. Even after lunch and a nap we were concerned we city girls might die from exhaustion on the way home. Fortunately, luck was on our side and although we had been going up and down hills on the way there we must also have been on an uphill gradient because we sailed back in half the time it took us to get there. Nevertheless, by the time we got back to Helsinki we were shattered by our unusual levels of activity and after a massive bowl of noodles in 'Wok' we headed straight for bed.
Day 6
Getting back on the bikes and riding them back to the bike shop was truly painful. We spent the morning in the upstairs part of Strinberg's cafe. The upstairs is designed to be like a library and we sat reading magazines until we felt able to make it over to Ravintola Teaterri for lunch. After lunch we bought dinner from Stockman's and went home to bed.
Day 7
In the morning we visited Kiasma again, this time visiting the exhibitions inside. At lunchtime we found a cafe right on the sea front so we sat for a few hours before walking back through the park to find ice creams. We wandered around the shops and walked by the harbour and around the town until dinner. For dinner we went to one of Helsinki's best Japanese restaurants for sushi followed by green tea and azuki bean ice cream. We had to get an early night as we were travelling to St Petersburg in
Russia
the next day and our train left at 7am. This meant that unfortunately we missed the Night of the Arts, a night which is part of the Helsinki festival. On this night all the museums and galleries are open until midnight and the music and partying goes on until dawn.
When we came back from
St Petersburg
I had one more day in Finland before returning home. I won't bother telling you what we did because it mainly consisted of sitting in cafes and eating ice cream. I really loved my time in Finland. I don't know what it is like there in winter but summer is really fun and lively. The forests and countryside is so very beautiful and I would like to visit the Finnish lake-district sometime soon. (2002)
Visit the WIZ information on Finland. Read news from Finland in Newslink