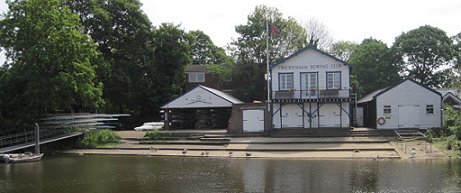 Founded in 1860,
Twickenham Rowing Club
is one of the oldest and largest rowing clubs in London. Its unique position on Londonís most beautiful stretch of the Thames makes Twickenham an idyllic place to row.
The first boathouse was built between 1861 and 1862 as a floating structure and was moored at some point off Twickenham Ait (Eel Pie Island).
In 1876, when the Club became the owners of the present site, the boathouse was put ashore. The piles for a new building were put in place in 1880.
Today, Twickenham Rowing Club has a strong reputation as a friendly, sociable and welcoming club and caters for beginners and experienced rowers of all ages. The club is currently benefiting from sustained growth in membership.
Eel Pie Island Home Page