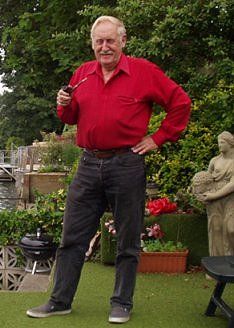 Trevor Baylis, born in 1937, was brought up in Southall. At 15 Trevor was swimming for Great Britain and later began to study mechanical and structural engineering.
At 20 he began National Service as a physical training instructor and then went on to become a professional swimmer, stunt man and entertainer.
Trevor's first company was Shotline Steel Swimming Pools. In 1985 he started to develop a range of products for disabled people called Orange Aids.
Trevor's gift for invention came into its own in 1991. Having seen a programme about the spread of AIDS in Africa, Trevor set about developing the Wind Up Radio as a means of spreading educational information in countries where electricity and batteries were not readily available. Eventually a group of foreign investors came on board forming a company called Baylis Generators, later named Freeplay.
In an interview with Trevor in July 2009, Trevor advised young people to "always follow your heart", for instance, if you are a water skiier become a water skiing instructor. Trevor went on to say that life is not about money and that you can only wear one suit at a time.
Today, Trevor lives on Eel Pie Island in Twickenham which he used to visit in his youth. After leaving National Service, he moved to East Twickenham visiting the island at weekends for jazz concerts in the Eel Pie Island Hotel.
Trevor built his own house on the island, constructing a raised deck with soil from the area where he dug out his swimming pool. He says that building his house was the best thing he ever did.
Eel Pie Island is a tight bonded community, always ready to help if something goes wrong. Trevor thinks that the community is very unusual today. There is so much friendliness and someone in the boatyard will always help with something practical. Also, London, where Trevor often needs to go to give after dinner speeches and accept awards, is only twenty minutes away by train.
Trevor has received many Academic Honours. He has visited a number of countries with the British Council and has met Nelson Mandela in
South Africa
: "an amazing man for whom I have the greatest respect". He has also lectured in
Ethiopia
,
Malawi
,
Namibia
,
Tanzania
,
Zambia
and
Zimbabwe
as well as in
Greece
,
Malta
,
Slovenia
,
Bahrain
,
Cyprus
,
Israel
, Palestine,
Singapore
,
India
and
Australia
.
In 2001 Trevor completed a 100 mile walk in searing temperatures across the Namib Desert to raise money for the Mines Advisory Group whilst demonstrating his new invention, the Electric Shoes.
Nowadays,Trevor promotes the concept of "personal power" and helps inventors take their ideas to market (Trevor Baylis Brands). He believes that none of us have all the skills to bring a product to market but he thinks that we could all be inventors: "you do not need to be a genius, often it is pure chance."
Eel Pie Island Home Page