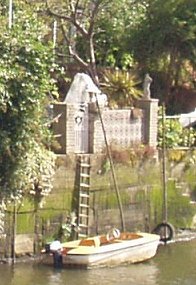 River Praise
Barrie Armstrong
God's grebe parts the river
and diving sings:
"Trust in the Lord,
the giver of all good things!"
"Be still", sighs the heron,
in the holy willow tree.
The cormorant lifts its wings
in worship: "Taste and See!"
Seagulls speak God's mercy
into every wind:
"Seek, seek, seek,
and you shall find!"
The kingfisher flies love's banner
in this celebration:
a flash of the heart's fire,
at Christ's coronation!
Barrie Armstrong moved to Eel Pie Island with his wife, Val, in 1995. He says that there is friendliness on the island and the craftsmen in the boatyard will always help with something practical; this sense of community is unusual these days. Christianity is very important to Barrie who belongs to St Stephen's Church in East Twickenham and is a member of a home group on the island.
Eel Pie Island Home Page