Day One:
Chicago, the
USA
's Second City, has always intrigued me: Al Capone (the 1920s gangster), the Jazz Age and the first skyscrapers.
In July 2001 I finally arrived at Chicago O'Hare airport with my friend Warren after a flight lasting seven hours. Getting off the plane we were surprised by the heat. Chicago had been suffering from a heat wave and while we were there temperatures reached 105 F (40 C).
I think we selected the wrong queue at passport control, as it seemed to take ages in comparison to the one next to us. Because of the recent outbreak of Foot and Mouth Disease in the UK we had to comply with Foot and Mouth regulations. We had to declare any possession of farm produce and say whether we had handled livestock or stayed in any bed and breakfast accommodation.
After getting through the airport we hailed a yellow cab to take us to the Hilton Drake Hotel. We checked in our bags and went out to explore the local area.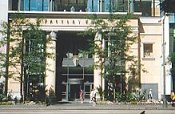 The road we were staying on was called Michigan Avenue or as it's also known 'The Magnificent Mile'. There was a huge selection of shops ranging from the usual Gap and Virgin Megastore to ones not found in the UK such as Tiffany's, Pottery Barn and Bloomingdales.
One of the most interesting stores was NikeTown. This store had almost a museum feel to it: sports goods moved around on electronic platforms and there was a basketball court where you could see how a pair of trainers would hold up to playing basketball.
When we had finished looking in the stores, we went back to the hotel for a few hours sleep and were woken by a huge thunderstorm which lasted about 2 hours.
Around 7ish we went out to get some dinner and after a quick visit to The Hard Rock Café we ended up in TGI Fridays. The food was very nice although the portions were huge, I also found out that once you buy a drink they will continually re-fill the glass.
Since we were tired we went back to the hotel to get some rest before day two.
Day Two:
We woke up at about 7 and went to look for breakfast. We finally decided that the best place would be the Intercontinental Hotel, which had a buffet. After eating our way through a large breakfast selection we decided to visit Chicago's Navy Pier.
The Pier contains many different things ranging from the children's museum and a virtual 3D tour of Chicago to small market stalls. While we were there we also saw the Museum of Stained Glass, which is a free museum.
From The Pier we moved on to Buckingham Fountain in Grant Park on Lake Michigan. This is among the world's largest fountains and one of Chicago's most familiar landmarks. At the time of its dedication in the spring of 1927, it ranked as the world's largest decorative fountain. The fountain was a gift to the city of Chicago by Miss Kate Sturges Buckingham in memory of her brother Clarence.
We had hoped to visit the home and studio of the famous American architect Frank Lloyd Wright who produced some of his most influential work while living in Chicago - however, there was not enough time and this would have to wait for another visit.
Apart from Frank Lloyd Wright's work Chicago has many buildings of architectural interest including the John Hancock Centre and Sear's Tower, one of the world's tallest buildings.
We had our evening meal in Chicago's 'House Of Blues'. This is basically a blues theme restaurant, but had some fantastic live blues - unfortunately we couldn't stay in the bar (as I am not 21) but we listened while we had dinner.
In the late 40s and early 50s Chicago blues musicians added electric guitars and drums to their music - this music was very influential on 60s bands such as The Rolling Stones. Chicago has always been a centre of popular music and famous musicians include the jazz musician Benny Goodman (1909-1986).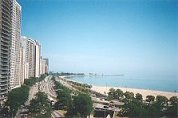 Day 3:
This was our shortest day as we had to be back at the airport by 3:00. We decided to spend some time on the beach that surrounds Lake Michigan. The beach was visible from our hotel room and the lake is so large that if you didn't know better you would think it was the sea.
After a few hours on the beach we returned to the hotel to collect our bags and get a cab to the airport. The return flight was a little shorter and we managed to get some sleep on the way back.
Chicago is a very interesting city and I recommend that it is a good place to visit if you get a chance.
(Neil Backhurst, August 2001)
The
Chicago Tribune
provides daily news coverage on the Internet as well as news from Chicago's sports teams such as the Chicago Bears (football), Blackhawks (ice hockey) Chicago Bulls (basketball) and Chicago White Sox(baseball).