Baltic Gateway Menu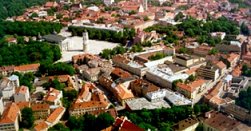 The Baltic Sea is located in Northern Europe. Countries in the Baltic Sea Region are Denmark, Estonia, Finland, Germany, Latvia, Lithuania, Poland, Russia and Sweden.

Norway is a neighbouring country (next to Sweden) and Belarus and Ukraine have historical ties with the Region.
What do you know about Lithuania?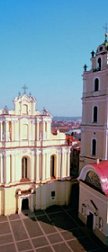 King Mindaugas (1236-1263) was Lithuania's only king.
In 1386 the Archduke of Lithuania married Queen Jadwiga of Poland unifying Lithuania with Poland.
Lithuania's first publishing house was founded in Vilnius in 1522.
Vilnius University was established in 1579.
Vilnius has a number of well-preserved examples of Gothic, Renaissance and Baroque architecture.
Many Lithuanians emigrated to the USA. Household names of people of Lithuanian descent include Charles Bronson (actor), Aaron Copland (composer) and Sara Lee (Sara Lee Foods).
In 1989, to demonstrate the Baltic States' wish for independence, Lithuanians, Latvians and Estonians joined hands forming a chain stretching from Vilnius to Riga (Latvia) and to Tallinn (Estonia).
Find out more about Lithuania from the WIZ Linking the World project. News from LITHUANIA can be found on World InfoZone's Newslink
Thanks to the Lithuanian State Department of Tourism (top photograph) and Anton Balinski, Vilnius University, (St John's Church at the University)