Menu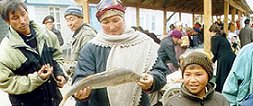 Salom from UZBEKISTAN
Emails from Tashkent International School, February
I'm new at TSI and would like to be pen pals with you. I'm German but I have lived in England for 7 years so I know a lot of English. I'm 11 and a quarter and study in 6th grade. We just had a one day holiday. I live in Tashkent in Uzbekistan and I go to TSI (Tashkent International School). I play soccer, play computer, watch TV, swim, do sports, sk8, snowboard, ski and more. ... What did you do for Christmas? I went skiing and snowboarding. Have you seen the
Lord of the Rings
films. ... What is your favorite country? Mine is New Zealand.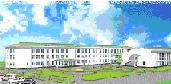 We have a new school which will be ready in August this year. It's very big and will look like this. ... What are your hobbies? What kind of sports do you like? Do you have any projects what your doing now? What countries do you like most? Do you like to listen music? What are your dreams when you will be adult?
Hi, how are you all doing?! I'm doing fine. On your letter you said that you will have a holiday called
Tu Bishvat
. You guys are very lucky because we don't have a holiday where we plant seeds or that kind of stuff. I never tried planting trees or crops, but I have planted flowers. When do you get report cards? Did you get them already? Are you happy with what you got? I'm very happy with what I got. ... Soon we are going to make a film to send to you about Tashkent. The film will tell about Tashkent, about the food, houses, animals, and other things telling about Tashkent.
Uzbekistan also has many holidays. For example
Navruz
(New Day) is our national holiday. In this holiday we make Sumalak (it is a special food made only for Navruz) and given to everyone that we know. We make this food in special, huge pots. It has brown color (like chocolate) It is so delicious. Yesterday we had
Kurban Khait
(Feast of the Sacrifice) it's also holiday. On this holiday we need to wear new clothes, our house needs to be clean, people give money to children. Every child likes this holiday as they are getting money and buying candies whatever they want.
Email about Haj
I am sorry I did not write letter to you because I went to Haj. Do you know about Haj? Here is my short article about Haj.
My Spiritual Journey
The path of Islamís historical and spiritual journey is paved by five basic pillars, which are as follows:
Namaz
Performing five times prayers
Rooza
Observing fasts in Ramadan
Haj
Performing the pilgrimage
Zakat
Giving out money to the poor
Iman
Faith in God
All above pillars are equally important and are compulsory to all Muslims to perform in various stages of their life. Today I am going to share my experience of one of the most important pillars, HAJ.
Haj is compulsory for each Muslim once in life time, provided if they can afford it. Haj takes place on 9th Zil Hajjah Islamic calendar. Its rituals start on 8th Zil Hajjah when each pilgrim wear
Ihram
(two white sheets of cloth) and proceed to Makkah to perform
Tawaf
(seven circles of holy kabah). I with my family did the same just before mid day, although Holy Kabah was thoroughly crowded but we managed to complete it and immediately left for Mina.
Mina is situated about 5 km from Makkah and is known as city of tents, where we have to spend a whole night in the tent and offer our 5 prayers. Next day on 9th Zil Hajjah soon after Fajr prayers 0600 hours we left for Arafath, which is the open ground and has a mosque in the center, this is the ground where our last prophet Mohammad offered his last sermon to all Muslims, we spent the whole day there and kept praying until 1800 hours. After sunset we left for Muzdalifah, which is close to Arafath, after arriving at Muzdalifah we kept praying until dawn.
On 10th Zil Hajjah we went to Jamarta to throw stones at Great Satan, I walked almost 12 km up and down and threw stones along with 2.4 millions other Hajis. Unfortunately due to over-crowding and rush 244 pigrims died due to a stampede on the spot. Soon after we slightly trimmed our hair and slaughtered four goats as it is one of the Haj rituals. In the same evening we went to Kabah to perform Tawaf and with this we completed our Haj. (Mecca is in
Saudi Arabia
)
Emails from Uzbekistan
Thank you for the letters from your students. Following are replies from my kids. ... these will be the last letters we write this year. I hope your end of the year is going well.
Hello man, how are you? I'm fine. I'm looking forward to the holidays. Have you played the game
Global Operations
? I think it's a good game. Have you seen the movie
The Last Samurai
? It's a very good Japanese fighting movie. Are you good in basketball? I am. I play shooting guard. I'm good at defense. I have a good shot. What's your favorite team? I support the LA Lakers. They're in the NBA final. I like Kobe Bryant.
Our school is going to close for summer holidays on June 12. It will re-open on August 28.
Read the WIZ information on UZBEKISTAN - bordered by
Turkmenistan, Kazakhstan, Kyrgyzstan, Tajikistan and Afghanistan).
Find out what is happening in the World. Read the latest news in NEWSLINK
Thanks to Olga Grebennikova, UNDP Kyrgyzstan (Kyrgystan) for the top photo
Return to the Menu
Page One