My interest in Gibraltar began in 2008. Until that time almost all I knew about The Rock were stories from my father who had marched up Main Street with other young sailors at some time during the Second World War.
From research for World InfoZone I learned that Gibraltar was the last known habitat of Neanderthals (Homo neanderthalensis) thought to have still lived in caves in Gibraltar around thirty thousand years ago.
The
buildings
which my father had walked past all those years ago, and which had been there for many years before, are still there.
As well as the [sometimes] adorable Barbary Macaques Gibraltar is known for its
military history
.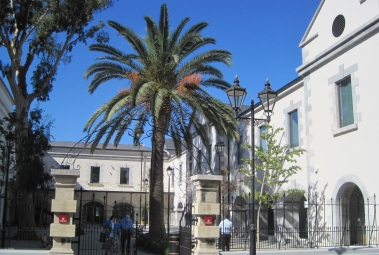 In September 2015 I was invited by the tourist office in Gibraltar to visit some of the most well known places of interest and the next year followed up the World Heritage application for
Gorham's Caves.

Later in 2015 (and updating to 2019) I wrote an article about the Elliott Hotel - named after General Elliott - and the surrounding area. General Elliott is commemorated in the nearby Alameda Botanic Gardens.

In October 2016, following interviews for World InfoZone at the Gibraltar Museum in June of that year, the Gorham's Cave team won an award for a short film about the caves from the Twickenham Film Festival; Dr Geraldine Finlayson was pleased to accept the award at the museum in October.

Finally, my interest in Gibraltar has been cemented since I reviewed a local research project, about where I live, which I carried out some years ago.

It seems that the first Earl of Strafford, who negotiated the Treaty of Utrecht which ceded Gibraltar to Britain, actually lived in the house next door - they were quite grand houses in those times but the land boundaries still exist.


Places of interest in Gibraltar include Catalan Bay, Sandy Bay, Harding's Battery, the Lighthouse and the Ibrahim-al-Ibrahim Mosque, the Queen's Balcony, St Michael's Cave, the Moorish Castle, the Trafalgar Cemetery, the Alameda Botanic Gardens, Commonwealth Gardens, Queensway Quay Marina, Ocean Village Marina, Camp Bay Lido, Gorham's Caves and Viewing Platform. And, Christmas Lights and Sacarello's.



Read the World InfoZone information on GIBRALTAR




Page One