Menu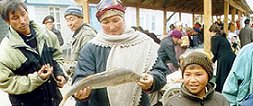 Salom from UZBEKISTAN
The pupils from the Tashkent School, a private school, have a website where they write about their activities. They have made a number of educational visits that you can read about in the information on their field trips. They have been to Lepoushka Bakery, a Zoo and Botanical Garden, the Astronomy Institute in Tashkent, the Museum of Applied Arts and a Cotton Factory. (Cotton is a very important crop in Uzbekistan and the country is one of the world's largest cotton exporters.)
As well as taking subjects such as art, history, maths, music and science, the pupils at the Tashkent School study Russian and English.
Emails from Uzbekistan
"Our school is in Tashkent the capital of Uzbekistan." ... "Uzbekistan is a little country located in Central Asia."
"Uzbekistan is a little country north of Afghanistan. The capital of Uzbekistan is Tashkent. Uzbekistan is an ancient country with many ancient monuments in cities like Khiva, Samarkand and Bukhara."
"I like Uzbekistan it is very nice here ... the food they call sashlik here, it is sheep meat on a stick that is cooked over this grill. When it is done we have their famous bread call lepushka." ... "Uzbek foods are
plov
(rice, meat and a lot of spices) and
lipioshka
(round bread) and meat kebabs. In Uzbekistan people also grow a lot of big juicy melons."
"I like to go shopping with my local friend to the shop called a
bazaar
".
"We also have a holiday that is
Kurban Hait
day, in this day we get one holiday when it actually is two or three days for the Russian schools. In this holiday Uzbek people eat plov and liposhki, this is the traditional food."
"I am very happy because yesterday I had a holiday (1 October). It was Teachers' Day. On those days we honour teachers for their work. Do you have a holiday called Teachers' Day?" ... "0n Teachers' Day, you give your teachers presents."
"My favorite subject is computer lab. Do you have computers in your school? We have a lot of computers, and we can use Internet. We use Internet to research about different topics. My recent research was about Mayan people. I also did research about unclean water. Did you know that asbestos, copper, lead, sewage, PCB's, DDT, dioxin, pesticides, invasive, pathogens, and more pollute waters?"
"I like David Beckham. His aim in shooting is practically 100%. He never shoots wide. He plays right midfield."
"My favorite hobbies are soccer and playing computer. My favorite soccer players are David Beckham, Zineadeane Zidane, and Luis Figo. I like to play games on my PC like GTA: 4 and Medal of Honor." ... "My favorite hobbies are to read, roller skate, roller blade, and play soccer."
"Today we are playing against another school. I bet we'll beat them as we always do. They just have one good soccer player who is two times older than all of us and he never passes."
"I also like the movie
Harry Potter and the Chamber of Secrets
, and
Lord of the Rings
the second part (The Two Towers). In Uzbekistan there is a park called Aqua Park, and another Park called Tashkent Land."
Emails from Tashkent 11 November
"Hey last night on Nov 10 we had an earthquake but it just was 2 seconds." ... "Yesterday somewhere at 7:00 we had an earthquake, it was a 5 point."
"The national sports are soccer, tennis, kurash (wrestling), and people like swimming."
Extract from email 4 December
Hey, you know that our schools is closing on 19 of December for winter holidays. And it's for three weeks. Tell me what you are doing in your class?
Page Two