Menu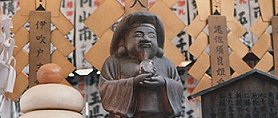 Konnichiwa from JAPAN
Emails from a teacher in Okinawa

Thank you for your student's e-mail so quickly (from Saar). ... My school is on a small island in Okinawa. Okinawa is in the southern part of Japan. The place where we live is the island of Tonaki. The population is about 500 so our school is very small. The whole number of Junior High School is 16. Please let me know about your school.
Okinawa is very different from the rest of Japan. Okinawa used to be an independent kingdom until 1890. So we have different history and customs. Houses in Okinawa are also very uniqe. Soon, we are sending scenery of Tonaki island. Yesterday, we took many photos.
Students are very happy to e-mail with your students. ... In the Japanese educational system, Elementary school is 6 years, then Junior High school is 3 years, and Senior High school is 3 years. School starts in April and finishes in March.
Emails from pupils in Okinawa

I enjoy living in Tonaki because I can swim in the sea.
Do you have a dog? I will send a picture of my dog. Please see.
My favorite singer is Japanese. The name of the group is "News". They are very popular in Japan.
How are you? Here it is cold today in Tonaki. March 3rd was a celebration for girls in Japan. The name of the celebration is
Hinamaturi
. On that day we eat sushi and drink ama-sake, a rice wine that has no alcohol in it so children can drink it. We decorate a shrine with dolls. It is said that if we don't clear off the dolls, marriage will be late.
l'll tell you about the Japanese school timetable. In Japan we study Japanese, math, English, science, social studies, art, industrial study, home science and PE. We study them for 50 minutes and we have 10 minutes recess between classes.
Emails from a teacher in Okinawa

In Japan, March is the month for graduation. So in my school, this coming Saturday is the graduation ceremony. 3rd grade students are taking examinations for entering Senior High school tomorrow and the day after tomorrow. ... My duty in Tonaki Junior High school will end this month. I will be transferred to another school from April.
From March 25th to April 7th, we have a spring holiday. My students are enjoying this project. Thank you for e-mailing with us. I am going to tell the next Tonaki English teacher about this project.
My students were surprised that Afik knows Japanese animation. Did you see the photos of Tonaki island? What's your impressions about Okinawa? Okinawa is very different from Japan.
Emails from a student in Tonaki
How are you? thank you for your e-mail. On 13th March, I graduated from Tonaki Junior High school. Next month I will be a high school student. I'm looking forward my new school life. I passed the examination. So I'm happy now. So I can't e-mail you any more. I was enjoying e-mailing with you. So take care. Thank you
Read the WIZ information on JAPAN
Find out what is happening in the World. Read the latest news in NEWSLINK
Return to the Menu