Menu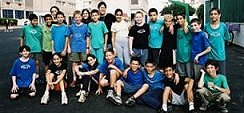 Ein Ganim Elementary School is in the city of Petach Tikva, founded in 1878. It is situated in a highly industrialised area with a population of 170,000.
Ein Ganim School is a Jewish non-religious school founded in 1965.
Five hundred and thirty pupils attend the school from the local area. In addition there are three gifted classes. The gifted children come from all over the city and the municipality organises transportation for them.
The school is housed in three different buildings. Two buildings are used for classroom teaching and a third building is used for the school management, secretaries and janitors. Lidar and Alon from Ein Ganim's sixth grade tell us that one of the buildings is used for the sixth grade pupils and the other is for the first grade until the fifth grade. There is also a small building for the teachers' room (with kitchen and utilities) and a small gym.
The schoolyard has a large asphalt court and some garden space. The children play soccer, basketball and volleyball at recesses and the school offers extra-curricular activities after school hours.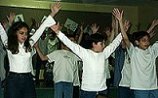 The pupils of Ein Ganim School have written to WIZ to tell us about themselves. We would like to thank Alon, Amit, Daniel, Daniel M, Dar, Dar S, David, Ido, Lidon, Lior, Liron, Liron H, Nadav, Ohad, Omer B, Orin, Rakefet, Rafi, Segev, Shai M, and Yanay G. for the information about the areas where they live and their interests outside school.
In Petach Tikva "there are many buildings, some are very old and others are new. There are also sport clubs, a soccer stadium, three basketball fields, a few shopping malls, some nice cinemas and a pedestrian mall" (Rafi and David). Liron H and Shai M write: "We have one big park in our city. Its name is Yad Lebanim and in this park there is a museum and a nice zoo." In Rosh Haain, Nadav says there is a lot of countryside and we are also told that there are hills and areas with flowers and trees.
Dar tells us that in Petach Tikva people mainly live in apartment buildings although there are a few private houses. In Rosh Haain there are many private houses with gardens and only a few apartment buildings. Lidar lives in an apartment: "The type of buildings in my neighbourhood are tall buildings. In my neighbourhood there are two buildings that look the same and I live in one of them. I have five floors in my house and twenty apartments. I live on the third floor and in the eleventh house".
Lior is a soccer fan and Daniel supports Hapoel Tel Aviv. Amit is a very good volleyball player. Other sports enjoyed by the pupils of Ein Ganin School are basketball, tennis, street hockey with rollers (Yanay G), swimming and a martial art called Capoeira.
Ohad likes David Beckham and Orin, who plays basketball for Maccabi Rosh Haayin, is a fan of Michael Jordan. Other favourite personalities are the actor Harrison Ford (Indiana Jones), Sarah Michelle Geller (Buffy), Jim Carrey, Subliminal and The Shadow (rappers), Christina Aguilera and Luisana Lupilato. Rakefet's hero is Ilan Ramon who was Israel's first astronaut and Rafi and David are impressed by Albert Einstein "because he was a very smart man and contributed very much to science".
The children have also sent us information about their favourite foods. These are hamburger, chicken burger, spaghetti with tomato sauce, chicken cutlets, lamb, steaks, Chinese food, pizza, pasta, bruschetta, pesto, schnitzel, red cabbage (made by grandmother), couscous (Libyan recipe), falafel, kugel (baked noodles in caramel) and ziva, a Yemenite food made from rolled dough, cheese and olives.
Breaks between lessons are popular when children socialize with their friends and play games such as soccer. But Marsha Goren's English lessons also came top of the list of what the pupils liked most about school.
Internet projects include Dream a Dream with Ein Ganim where pupils write to over thirty schools from around the world; a road safety project which was developed by Marsha in collaboration with Intel called On the Road to Safety and a Rock 'n' Roll project which has won a grant from the Ministry of Education. Classes also participate in the Friends and Flags project. These projects give the pupils a lot of enjoyment and at the same time improve the children's English.
Dar says: "I would like to tell you about something that I love very much - We write to kids in other countries, we learn a lot about them from this."
Omer B wrote to us: "I would like to say some words about the English project; the Dream a Dream project is a wonderful project and we can talk with other children and I think that if it wasn't for this project I couldn't write to you!"
In December 2002 Marsha and some of her pupils visited
Rome
and took part in the Global Junior Challenge where they met teachers and pupils at the Walt Disney School with whom they have been working via the internet. Ein Ganim was awarded the Twinning Schools Award: the Roman School, 196 Circolo Didattico "Walt Disney" and Ein Ganim Elementary School.
Read the WIZ information on ISRAEL
Find out what is happening in the World. Read the latest news in NEWSLINK
Return to the Menu